Certain dog breeds or crossbreeds can suffer from issues such as hip dysplasia and other issues that come with age such as arthritis. Mindiampets selection of dog beds in Australia has a select number of orthopaedic bed types available.
Making sure that your dog gets a comfortable sleep is another reason for choosing Mindiampets dog beds Australia.
Choose a luxury designed dog bed and support local Australian businesses. Many of the products we source for our dog beds are made in Australia and we have had it tough with the recent bush fires. especially products including timber and local fabrics and materials.
When it comes to standing up to the harsh climate these dog beds Australia are as tough as nails; these dog beds will stand up strong against the Suns UV rays, rain, wind and frost. You can choose an indoor or outdoor dog bed, or even both.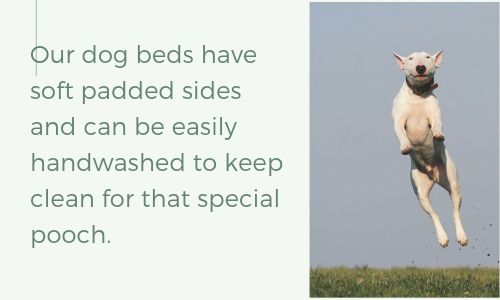 Forget a Bunnings dog kennel
A Bunnings dog kennel is a type of cheap dog bed listed on their website. If you are looking for a cheap dog kennel or cheap dog beds online you can find the equivalent here at he Mindiampets. Choose a bed that is convenient for your home decor.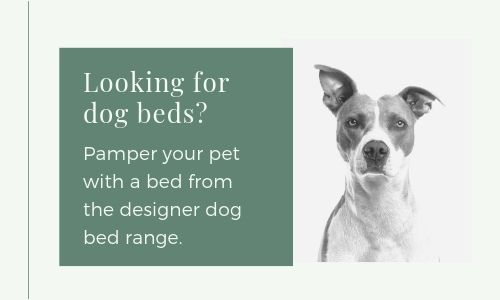 Searched for dog beds Kmart?
When it comes to cheap dog beds online, Kmart has some great products to choose from, most of which are under $40, offering awesome value for money. Perhaps you are looking for extra large dog beds with sides; a great alternative to what's available at Kmart is our extra large pet lounge, with soft padded side cushions that can be easily hand washed to keep clean for that special pooch.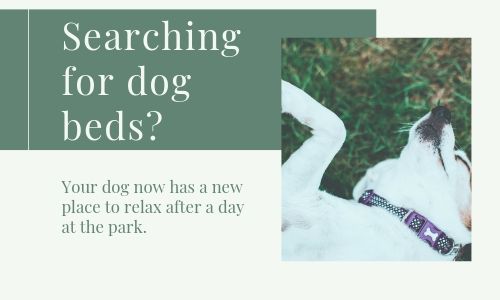 Tired of looking for dog beds Bunnings?
We are all aware of how huge each Bunnings store is and are familiar with their marketing catch phrases. If you are looking for cheap dog beds then you can even shop at Bunnings from the comfort of your own home. After all, warm dog beds for winter are important for your puppies health. You can shop online at Mindiampets as our service is quick and efficient. With express shipping, it is the best way of getting that new pet bed for your treasured pet.
Tired of shopping for Dog Beds Big W?
If you are after a stylish and affordable pet bed for your dog, Mindiampets Australia has a large selection at our online dog beds store. If you are after comfort, practicality as well as affordability then Mindiampets offers everything from pet cushions and pet pillows in various sizes, styles and materials.
Target dog bed almost look all the same
Are you looking to pamper your pet dog with a new pet bed, your local Target store has a selection for you to add to your shopping list. You can even get a pillow and blanket to make your dog feel even more special as they stretch, snuggle, cuddle and curl up in their new home.
Dog Beds Australia has the Snooza big dog bed selection at our store
If you are after a big dog bed then the Snooza dog beds come in various styles, fabrics and sizes, including L and XL with many added extras in the range. All of our indoor dog beds have removable covers you can wash. If you want to update the look of your dog bed then our funky replacement covers may also be an option.
Find the perfect pet dog bed
Go the Mighty Maroons! If you are a footy supporter, why shouldn't your pooch get to wear the might Maroons colours. These perfect dog beds are now available in Champagne colored trim, we also beds available in white with a dark green trim. The beds are available in four sizes which are easily washable as well as being soft and comfortable for your pet dog.
Fido and Fletch dog bed best alternative
Fido and Fletch have a range of dog beds available in S, M, L and XL that are raised above ground level for comfort and ease of cleaning. The fabric used is a hard wearing Textilene that stands up against rips and well as being easily cleaned by hand or hose. Our dog beds are one of the best alternatives for large dog beds and igloo dog beds available in Australia.
Looking for dog beds at the reject shop?
The Reject Shop stocks Australia's most affordable dog beds and accessories. The selection is small, but if affordability and comfort for your pet dog is not very important, then the Reject Shops no-fuss range of dog beds are ideal.
Dog Beds Australia – A Snooza Dog Bed is available for any sized dog
Snooza (all rights reserved) have been designing dog beds in Australia for around 30 years. Not only do they have a range of 29 indoor dog beds, they also have a range suitable for outside doggy comfort with cushions, pillows and refillable foam. You could choose from any of our replacement covers for any of the dog beds we have in stock.
The designer rangers even include soft and plush manufactured fur along with a range of over 30 different fabrics. If you can't find what you are looking for in their range perhaps customizing a bed with your own fabric and or embroidery with your dog's name could be the answer for you.
We don't collect any personal information for more information refer to our privacy policy.